The 5 Best Handheld Cordless Portable Vacuums
Posted by ChenIris on

A handheld vacuum cleaner is a whole lot easier to maneuver than a full-size model, especially when cleaning hard-to-reach corners or pet-hair-covered couches. 
For smaller messes, a good handheld vacuum provides quick cleaning without a lot of heavy lifting and without hogging precious storage space. These mini vacs won't replace a full-size vacuum when it comes to deep cleaning, but they are handy for instantly tackling dry spills, tracked-in dirt, and pet hair stuck to just about everything. With handheld vacuums, you might even consider more than one as they don't just tackle messes inside your home, car and anywhere: stash one in the garage to keep a workshop, garden bench and your car clean, too.
Today's newest cordless models have more powerful batteries to pick up more debris and run longer than the wimpy models of years ago. Other innovations include more comfortable grips, easier to empty dust cups, washable filters, removable batteries, multiple speeds, and more. 
Based on our tests, the best handheld vacuum cleaners to buy right now are.
1、AutoBot VX max Handheld Vacuum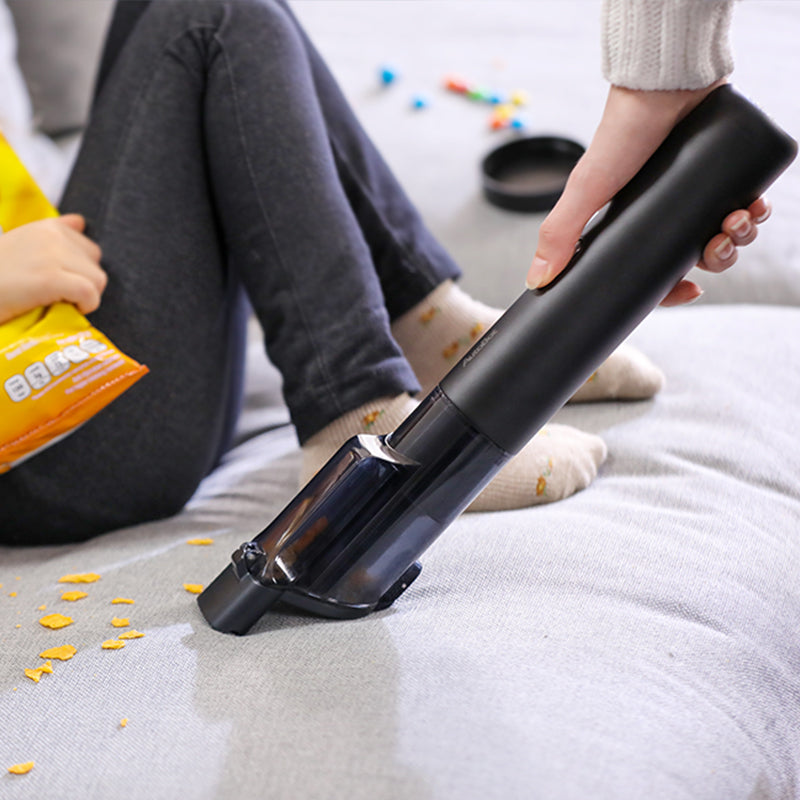 Your new cleaning assistant. The VXmax brings smart technology into a high-performance cordless vacuum cleaner for a completely new and convenient cleaningexperience at home, in the car or wherever you can imagine.
Whether you are living a time-sensitive lifestyle or looking for a quick cleaning routine, the VXmax is the most efficient, portable and easy-to-use vacuum cleaner for your everyday life. Thanks to its innovative design and lightweight material, you can carry it wherever you go.
In Home, Equipped with several replacement heads, the AutoBot VXmax meets all of your cleaning demands.Clean up the mess in seconds and maintain a fresh environment. For our furbaby parents, the AutoBot VXmax takes care of pet fur, liters, and outdoor dirt.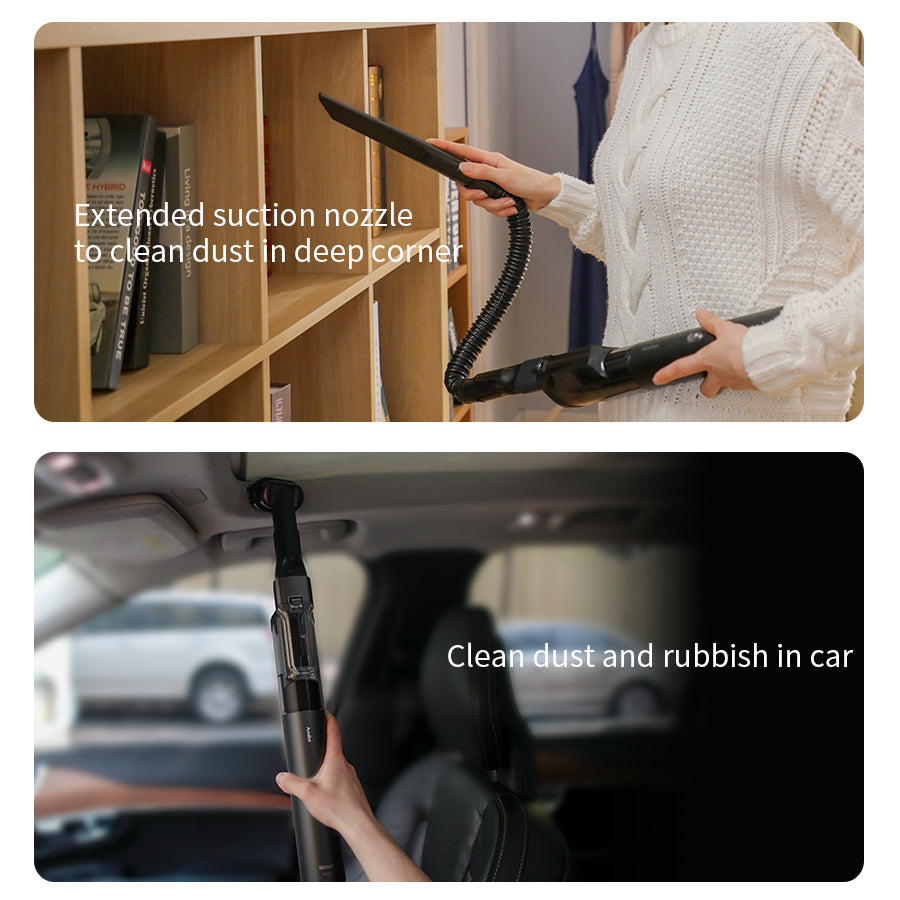 In Car, Convenient, efficient, and portable, the VXmax is perfect for cleaning your car. ​
Main Features:
High-efficiency brushless motor,use cycle can be up to 7 years.
Versatile, lightweight, easy to use and offers high maneuverability.
Portable, cordless, easy to recharge with USB Type-C.
High suction power at

7.5KPA/14KPA/20KPA

 with 3 modes.

Washable Stainless Steel HEPA Filter Design without buying replacement filters. 

For the first time, a dust-air separation cyclone is introduced into a small, handheld vacuum cleaner.
The first production of using the cyclonic filtration.

Beautiful aluminum and lightest design.

With charging accessories, it can be used conveniently at home.

Comes with Hose  and Nozzle to reach and clean confined spaces.

Comes with Brush to clean rough surfaces for home.
2、Shark Wandvac Lightweight Handheld Vacuum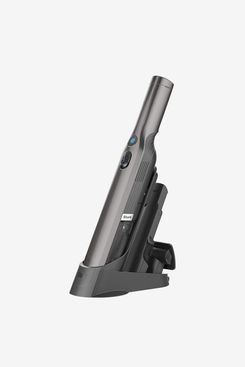 Reviewers agree that this Shark vacuum — which weighs just under 1.5 pounds — has got "great suction [and] awesome battery life" despite its compact size.
A once-skeptical reviewer writes, "Initially, I scoffed at the idea of spending $100 on a souped-up dustbuster, but as long as this unit lasts, it is worth it … This miracle, sleek vacuum device is a GODSEND and a GAME CHANGER." Another satisfied customer was just as surprised: "Lightweight, doesn't sound powerful, but don't let that fool you!"
3、Dyson V15 Detect
Say hello to Dyson's latest and greatest stick vac, the $700 Dyson V15. As the company's flagship cordless vacuum, the V15 has a sky-high price tag to match. It's by far the most expensive machine in our test group. Like its predecessor the V11, the V15 ripped through our suite of vacuum tests with ruthless competence. 
It didn't just outperform competitors from other brands. The V15 demonstrated more suction power than the Dyson V11, the previous cordless vacuum champion. The V15 also achieved these results on our most difficult trial, sand. 
It was able to remove 88.4% of test sand we placed on midpile carpeting. The V11 managed 71.6% on the same test. More impressively, the V15 pulled 95.3% of sand particles we dropped onto low-pile carpeting. That's a lot better than the 78.4 percent the V11 was able to muster here. The V15 wasn't phased by pet hair either. No matter if it was vacuuming across hardwood, low-pile, or mid-pile carpeting, the V15 barely left a tuft in its wake.  
A few other features help set the V15 Detect apart. One is the vacuum's "Laser Slim Fluffy" cleaner head. Designed specifically for hard flooring, it shines a green laser out onto the floor ahead as you clean. Its purpose is to highlight dust and other small bits of debris otherwise hard to spot with the naked eye. The system does work and we observed plenty of dirt we'd normally miss. One drawback though is that the laser isn't visible under strong indoor lighting or sunlight. 
Also interesting is a readout on the back of the vacuum. This report lists the ratio of dirt collected by particle size. Other than that, and a battery that's easier to remove, the D15's design remains much the same. That's a good thing since we found both models' dustbins easy to empty. 
Bundled with the vacuum are seven different cleaning attachments. Including the Laser Slim Fluffy, you get a High Torque cleaner head, a Hair screw tool and crevice tool, just to name a few. All this adds up to why the Dyson V15 Detect is currently the best cordless vacuum cleaner around, if spending lots of money is no barrier. 
Read more about the Dyson V15.
4、Bissell Pet Hair Eraser Lithium Ion Hand Handheld Cordless Vacuum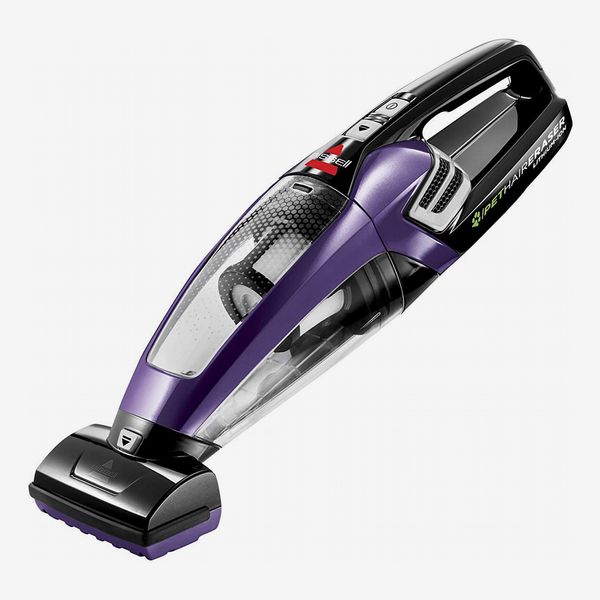 Hundreds of reviewers call out the brush attachment on this pet hair-busting model from Bissell. "I have a white dog with hair that embeds (EMBEDS!) into fabrics — our sofa, car seats, etc.
This vacuum does a MUCH better job than anything else I have used. And it is very easy to use," notes one. "The rotating brush in this little vacuum is SO MUCH BETTER than just using a regular attachment." "It has several nice attachments but the only one you really need is the motorized brush. It cleans as well as my upright vacuum and my canister vacuum," observes another reviewer, while a third says it "did a better job of cleaning [dog] hair than the shop vac." Another says they "went to town on the steps with the motorized brush attachment, and in under five minutes, they were cleaner than they've been since I moved in (and the vacuum's canister had the cat hair to prove it)."
5、Black + Decker 20V AdvancedClean Handheld Vacuum for Pets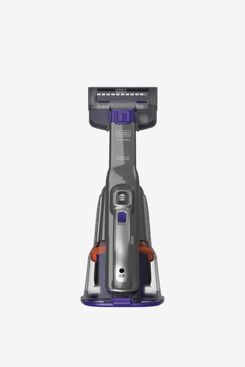 One reviewer, who lives full time in an RV with four cats and four small dogs, says, "This thing will pull pet hair off cushions and pillows in one pass like it was never there," adding that when you "pull off the brush and extend the nozzle" it will "reach into crevices well."
Another pet owner, with only two dogs and a cat, describes this handheld vacuum as "small for convenience but strong enough for daily cleaning," adding that it removes all the animal hair from their two couches. And while it's designed to pick up pet hair, it works on a wide variety of messes. "This little vacuum is bad ass, it's super lightweight and it's got plenty of suction power — especially when you [turn on] turbo mode," another writes. "It gets the job done … [even] when you have children spilling all kinds of things on the floor."
← Older Post Newer Post →
---
0 comments